The Hostel Stralsund opened in year 2008. In a recently renovated building the guests will find reasonable lodging in one of the 17 single and multi-bed rooms. Membership is not required and all age-groups are welcome.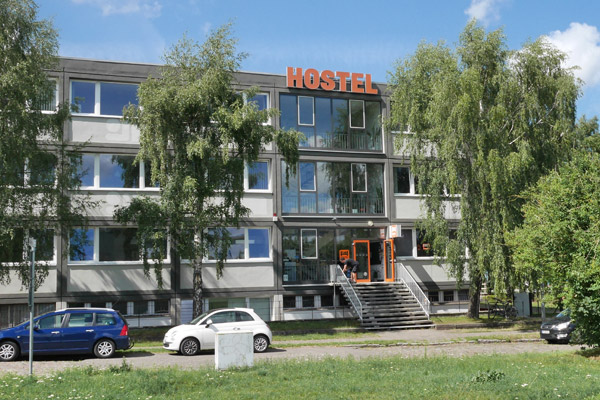 In the common room you can make new contacts, trade books or watch television. The rooms have either a view of the new Rügenbrücke, the bridge to the island of Rügen, or of the Ozeaneum, the new Oceanographic Museum, in the historical Old Town Centre. The Town Centre with its restaurants, pubs, bistros, movie theatre, harbour and convenient public-transportation connections is only 5-10 minutes away by foot. The friendly, family-like atmosphere at the hostel is reason enough to stay a little longer.
Reservations as of now using our reservation-form.
About the Hostel
Soundslide von Nicole Buchmann
Meinungen
»Ich habe die kurze Zeit in Stralsund sehr genossen und die spezielle Atmosphäre des Hostels nahe Hafen mit seinen Geräuschen durchsetzt von Möwenkreischen… es war mir sehr wohl bei Euch!
Einen schönen Sommer!«
Pierette 07/2023
»Ein liebevoll und detailreich geführtes Hostel mit vielen Möglichkeiten vor Ort (grillen, TT…) und in in der Umgebung,
Die Gastgeber sind sehr aufmerksam und leben ihr Projekt … .«
Anonym 07/2023
»Sehr angenehme, entspannte und wertschätzende Atmosphäre / hohe Gesprächsbereitschaft und Offenheit auch außerhalb der Geschäftszeiten, wenn etwas mal hakt / schöne Zimmer, in denen die Schüler und Schülerinnen auch bei Regenwetter gut aufhalten könnten / Lage nicht so nah am Wasser, aber in Fußentfernung zu mehreren Ausflugszielen und mit guter Bus- und Bahnanbindung / auf Anfrage geschlechtergetrennte Duschen.«
Anonym 06/2023
»Wir waren von Anfang an begeistert. Die Lage, die Gastgeber und die ruhige Lage am Hafen. Ein tolles Hostel, auch in Zukunft. «
Heidi 04/2023
»Kommt dem gerecht, wie es sich im Internet präsentiert. Es ist sauber.!«
Anonym 08/2022